ASOCIAL / THE BEDROVLERS "How Could Hardcore Be Any Worse? Vol 1" LP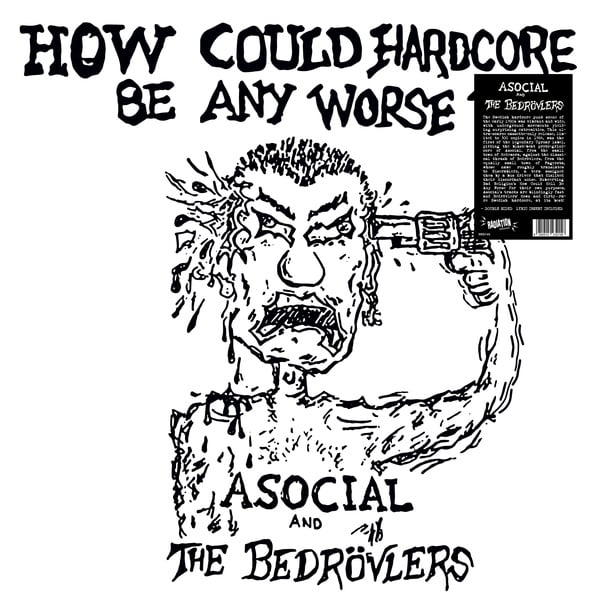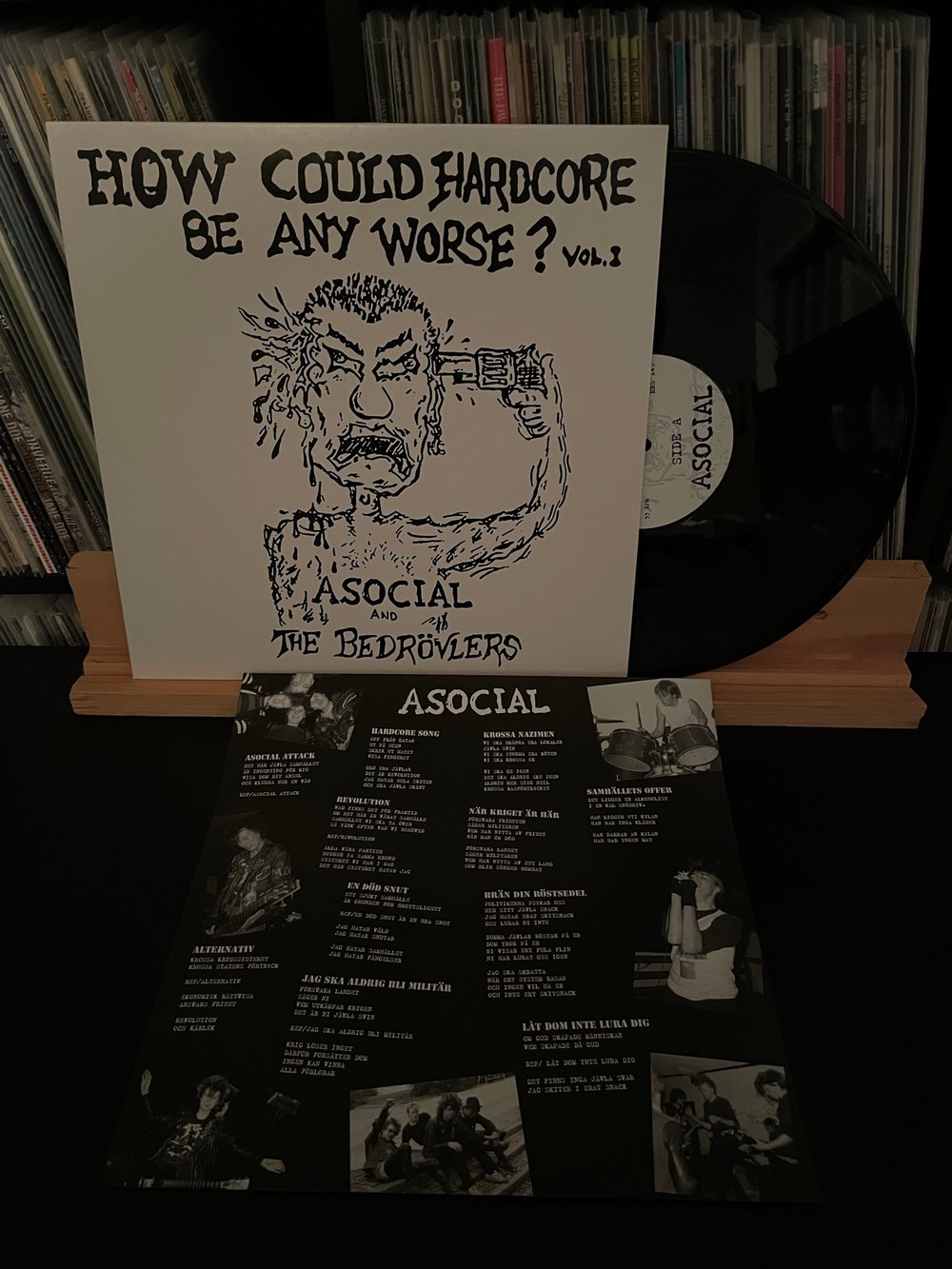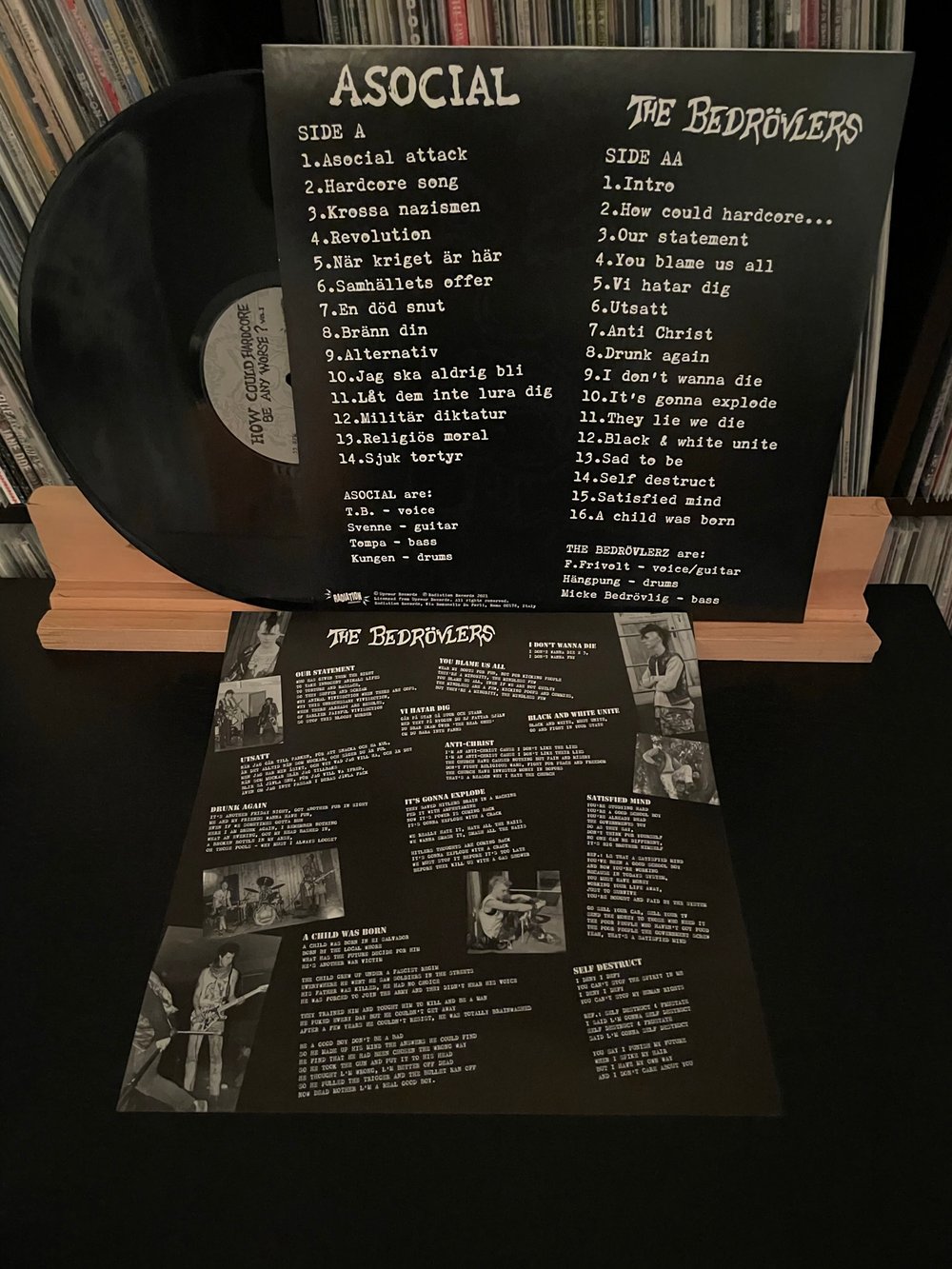 ASOCIAL / THE BEDROVLERS "How Could Hardcore Be Any Worse? Vol 1" LP
FINALLY!!! A legit reissue of this split cassette! Essential Swedish Hardcore!!!!
Euro import. Black vinyl LP in heavy board jacket.
A reissue of Asocial and The Bedrövlers' How Could Hardcore Be Any Worse? Vol. I, originally released in 1984. The Swedish hardcore punk scene of the early 1980s was vibrant and wide, with underground movements yielding surprising extremities. This ultra-scarce cassette-only release, limited to 300 copies in 1984, was the first of the legendary Uproar label. The release pitted the blast-beat proto-grindcore of Asocial, from the small town of Hedemora, against the classical thrash of Bedrövlers, from the equally small town of Fagersta, whose name roughly translates to Miserablerz, a term assigned them by a bus driver that disliked their discordant noise. Subverting Bad Religion's How Could Hell Be Any Worse for their own purposes, Asocial's tracks are blindingly fast and Bedrövlers' down and dirty-rare Swedish hardcore, at its best.
Tracklist:
–Asocial Asocial Attack
–Asocial Hardcore Song
–Asocial Krossa Nazismen
–Asocial Revolution
–Asocial När Kriget Är Här
–Asocial Samhällets Offer
–Asocial En Död Snut
–Asocial Bränn Din
–Asocial Alternativ
–Asocial Jag Ska Aldrig Bli
–Asocial Låt Dem Inte Lura Dig
–The Bedrövlerz* Intro
–The Bedrövlerz* How Could Hardcore....
–The Bedrövlerz* Our Statement
–The Bedrövlerz* You Blame Us All
–The Bedrövlerz* Vi Hatar Dig
–The Bedrövlerz* Utsatt
–The Bedrövlerz* Anti Christ
–The Bedrövlerz* Drunk Again
–The Bedrövlerz* I Don't Wanna Die
–The Bedrövlerz* Black & White Unite
–The Bedrövlerz* They Lie We Die
–The Bedrövlerz* It's Gonna Explode