BLITZKRIEG "Ohne Zukunft" 2LP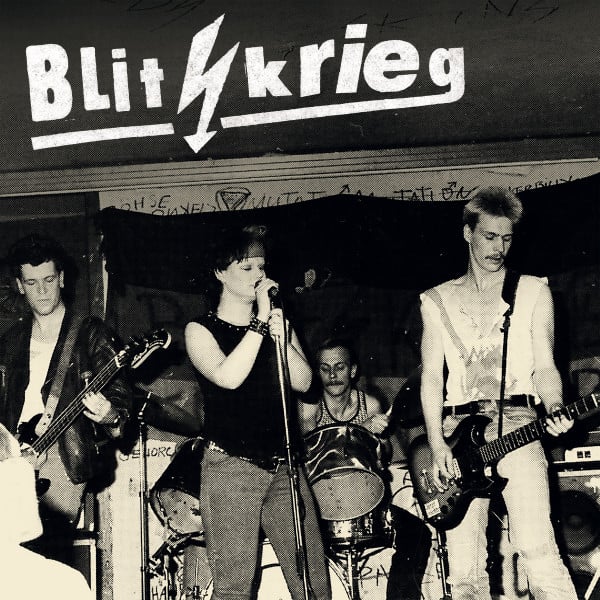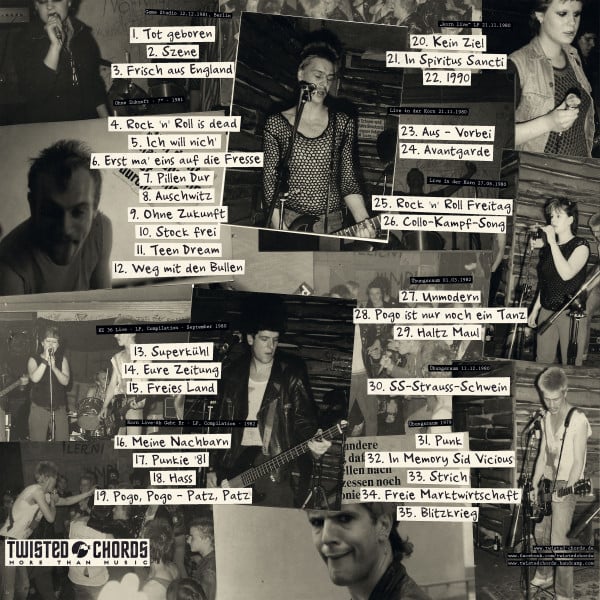 BLITZKRIEG "Ohne Zukunft" 2LP
Minimalistic hardcore-punk with political and personal lyrics and straight up anti-attitude self-destructive, no future, punk. An authentic historical document of early German punk.
2LP on color vinyl, 1 on purple marble vinyl, one on gold marble vinyl housed in a heavy board gatefold jacket with 2 sided 12x12 insert.
History lesson: Hanover, 1981. Punk in its absolute early phase and Blitzkrieg in the middle. Founded in 1979 and dissolved again in 1982. Hardcore pogo-Schrammel-Punk with straight anti-attitude and the very classic themes of early German punk. Blitzkrieg played a few dozen gigs with bands such as Slime, ZK, Buttocks and Middle Class Fantasies, recorded a legendary 7 with "Ohne Zukunft" (No Nordstadt Records) and immediately dissolved again. Parts of the band later founded the Boskops, but that's another story. "Ohne Zukunft" was released in 1994 as a 35-song compilation CD with everything the band had ever recorded or recorded. Now for the first time ever on vinyl.
Complete discography by Blitzkrieg.
Double-LP, gatefold cover, textinlay with bandhistory and historical pics, downloadcode. All LPs in multicoloured vinyl.
1 & 3 : Soundtracks Zum Untergang 2 LP Comp., march 1982
2 : Wir Sind Alle Schlawiner 7", Compilation 1989
4 - 12 : Ohne Zukunft 7", 1981
13 - 15 : From KZ 36 Live - LP, Comp. Sept. 1980
16 - 19 : Korn Live-Ab Geht Er - LP, Compilation - 1982
20 - 22 : Live Der Korn 21.11.1980
23 - 24 : Live Der Korn 21.11.1980
25 - 26 : Live Der Korn 27.06.1980
27 - 29 : Übungsraum 01.03.1982
30 : Übungsraum 11.12.1980
31 - 35 : Übungsraum 1979
TRACK LIST:
Game Studio 12.12.1981, Berlin
Tot Geboren 2:11
Szene 1:53
Frisch Aus England 2:51
Ohne Zukunft - 7" - 1981
Rock'n ' Roll Is Dead 0:49
Ich Will Nich' 1:24
Erst Ma' Eins Auf Die Fresse 1:52
Pillen Dur 1:24
Auschwitz 1:45
Ohne Zukunft 2:08
Stock Frei 2:10
Teen Dream 2:03
Weg Mit Den Bullen 1:17
KZ 36 Live - LP, Compilation - September 1980
Superkühl 1:35
Eure Zeitung 1:18
Freies Land 2:48
Korn Live-Ab Geht Er - LP, Compilation - 1982
Meine Nachbarn 1:50
Punkie '81 1:26
Hass 2:32
Pogo, Pogo - Patz, Patz 1:22
Live Der Korn 21.11.1980
Kein Ziel 1:52
In Spiritus Sancti 3:17
1990 1:39
Live Der Korn 21.11.1980
Aus - Vorbei 1:32
Avantgarde 2:00
Live Der Korn 27.06.1980
Rock'N 'Roll Freitag 2:18
Kollo Kampt Song 2:34
Übungsraum 01.03.1982
Unmodern 1:08
Pogo Ist Nur Noch Ein Tanz 1:24
Haltz Maut 1:47
Übungsraum 11.12.1980
SS-Strauß-Schwein 1:56
Übungsraum 1979
Punk 2:44
In Memory Sid Vicious 3:31
Strich 5:02
Freie Marktwirtschaft 3:11
Blitzkrieg 1:25