CHEETAH CHROME MOTHERFUCKERS "The Furious Era 1979-1987" 2CD discography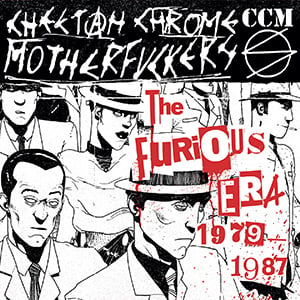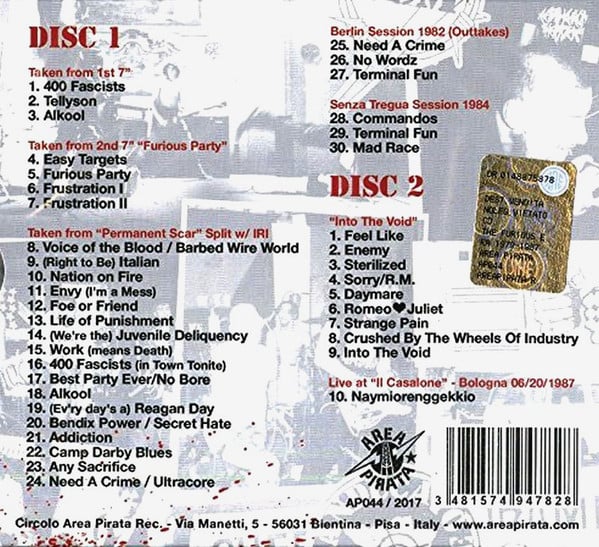 CHEETAH CHROME MOTHERFUCKERS "The Furious Era 1979-1987" 2CD discography
Completely essential Italian HC/punk reissue!!
2CD packaged in a jewelcase with slipcover. with a 36-page booklet containing pictures, lyrics and a "Discography" insert, along with English/Italian biography.
Euro import
Pisa, Italy, 1979: That's where set its pace one of those cult HC-bands destined to leave an unhealed scar in the still-yet-to-come international musical landscape: furious lyrics full-throated by an out of control voice, a fast as lighting abrasive guitar with no place for any melodies but still abruptly original, along with a drumming ready to massacre ears...CCM (a.k.a. Cheetah Chrome Motherfuckers)
Their existence, corresponding with the most prolific HC momentum, ends up in 1987 and their two EPs, the split tape, the LP and the few other scattered songs are by far sufficient to single them out as a standing point and a reference for anyone interested in untamed music.
This release finally fills a gap: their sold out records had never been reprinted so far, thus reaching crazy prices among collectors, while even lame bootleg copies had started to jump out of nowhere.
Since the early start we worked with the two original sound engineers (from West Link Recorders) who had toured and shared all with the band, this "refreshing" of master tapes giving a new incredible shine to the original sound.
We decided as well to include in the package pics, gig flyers and even extracts from lyrics.
Members of the band supported this project since the early start with the common mission to bring back to life a palette of that music which used to correspond with everyday living.
For those who luckily had a chance to see them live maybe moshing at one of their sped-up songs, but also for those others fascinated by the mysterious area surrounding their legend.
Tracklist
Taken From 1st 7"
1-1 400 Fascists
1-2 Tellyson
1-3 Alkool
Taken From 2nd 7" "Furious Party"
1-4 Easy Targets
1-5 Furious Party
1-6 Frustration I
1-7 Frustration II
Taken From "Permanent Scar" Split W/ IRI
1-8 Voice Of The Blood / Barbed Wire World
1-9 (Right To Be) Italian
1-10 Nation On Fire
1-11 Envy (I'm A Mess)
1-12 Foe Or Friend
1-13 Life Of Punishment
1-14 (We're The) Juvenile Deliquency
1-15 Work (Means Death)
1-16 400 Fascists (In Town Tonite)
1-17 Best Party Ever / No Bore
1-18 Alkool
1-19 (Ev'ry Day's A) Reagan Day
1-20 Bendix Power / Secret Hate
1-21 Addiction
1-22 Camp Darby Blues
1-23 Any Sacrifice
1-24 Need A Crime / Ultracore
Berlin Session 1982 (Outtakes)
1-25 Need A Crime
1-26 No Wordz
1-27 Terminal Fun
Senza Tregua Session 1984
1-28 Commandos
1-29 Terminal Fun
1-30 Mad Race
"Into The Void"
2-1 Feel Like
2-2 Enemy
2-3 Sterilized
2-4 Sorry / R.M.
2-5 Daymare
2-6 Romeo Loves Juliet
2-7 Strange Pain
2-8 Crushed By The Wheels Of Industry
2-19 Into The Void
Live At "Il Casalone" - Bologna, 06/20/1987
2-10 Naymiorenggekkio