DISTRUST "A Dream Of Peace +" LP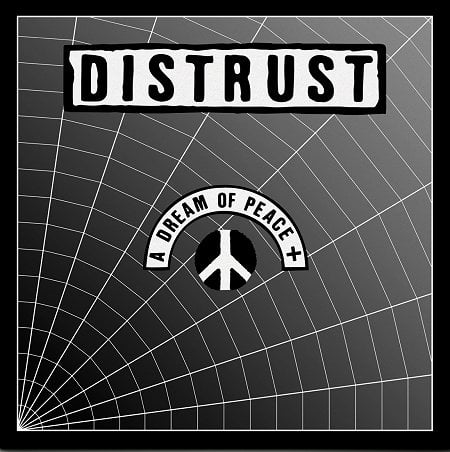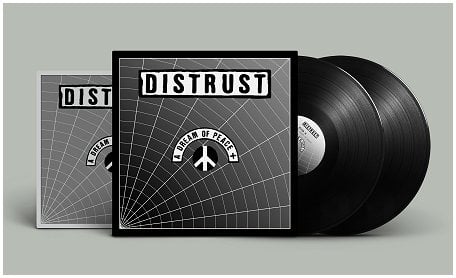 DISTRUST "A Dream Of Peace +" LP
Euro import. 2LP on black vinyl in heavy board gatefold jacket with booklet insert.
FOAD's legacy with pioneering Swedish Hardcore / Punk bands goes on! After unearthing the early recordings of the speed Hardcore maniacs ASOCIAL, it's time for another classic act of the same "family"… DISTRUST! Brief history: Distrust came together in the summer of 1983 when the 2 brothers Kenneth & Tommy (from B.T.D.) joined Håkan & Peter L (before in Why War?). Håkan had just started singing in Asocial (later on drums) and Tompa (Asocial) lived next door to Kenneth and Tommy so it was natural those two bands did a lot of things together. After that Distrust dissolved in the end of -84 or early -85 Kenneth joining Asocial on bass (later on guitar).
This double LP discography includes all their existing recordings compiled by Håkan straight from the master tapes for the best sounding result! "A dream of peace" Demo 1983, "Vi Rustar Dom Dör" Demo 1984, the split live tape with Asocial, all tracks from "No War No More 1 & 2", "Really Fast Vol.II" plus extra rehearsal and live tracks, for a total of 61 songs of uncompromised Swedish Punk / Hardcore mangel!! They sound as raw and furious as ASOCIAL with an even punker approach. If you're into raw straightforward Scandinavian HC / Punk and enjoy bands like Mob 47, Crude SS, Missbrukarna, Svart Parad, Headcleaners, you just can't miss this! Housed in a thick gatefold sleeve including a 11″ x 11″ packed with liner notes, photos, flyers and original artworks!
Tracklist
Sid A (A Dream Of Peace)
Punken är död
Försöksdjur II
Döds-straff (live)
Vi rustar, dom dör
Våld löser ingenting
Föroreningar
Misstro
Försöksdjur II (version)
I natt jag drömde (full version)
Minoritet förtryck
Fred och frihet
Döds-straff
Vår frihet
Vår frihet (live)
Nationalism (live)
Sid B (No War No More Vol 1)
Distrust woggy & Världskrig 3
Generaler
Vi vill...
Försöksdjur
Döds-straff
Tid att dö
Rasisternas barn
Vår frihet
Fred och frihet
Sveriges Försvar
Demokrati (early version)
KKK (live)
Demonstrationer (live)
Snutens makt (live)
Föroreningar (live)
Sid C (Vi Rustar, Dom Dör)
Vi rustar, dom dör
Religionens lögner
Fred med vapen
Total kontroll
Demokrati
Snutens makt
Ungdomens aggressioner
Det är dags att vakna nu
KKK
Föroreningar
Sadister
De utslagnas samhälle
Regeringens jävla påhitt
Demonstrationer
Fred och frihet
Välj ditt liv
Sid D (Live At I.Y.C.)
Vi rustar, dom dör
Torterad ångest
Fred med vapen
Ungdomens aggressioner
De utslagnas samhälle
Välj ditt liv
Regeringens jävla påhitt
Det är dags att vakna nu
Fred och frihet
Sadister
Total kontroll
Torterad ångest
Religionens lögner
Demokrati
Torterad ångest (demo)