ESCUELA GRIND "Indoctrination" LP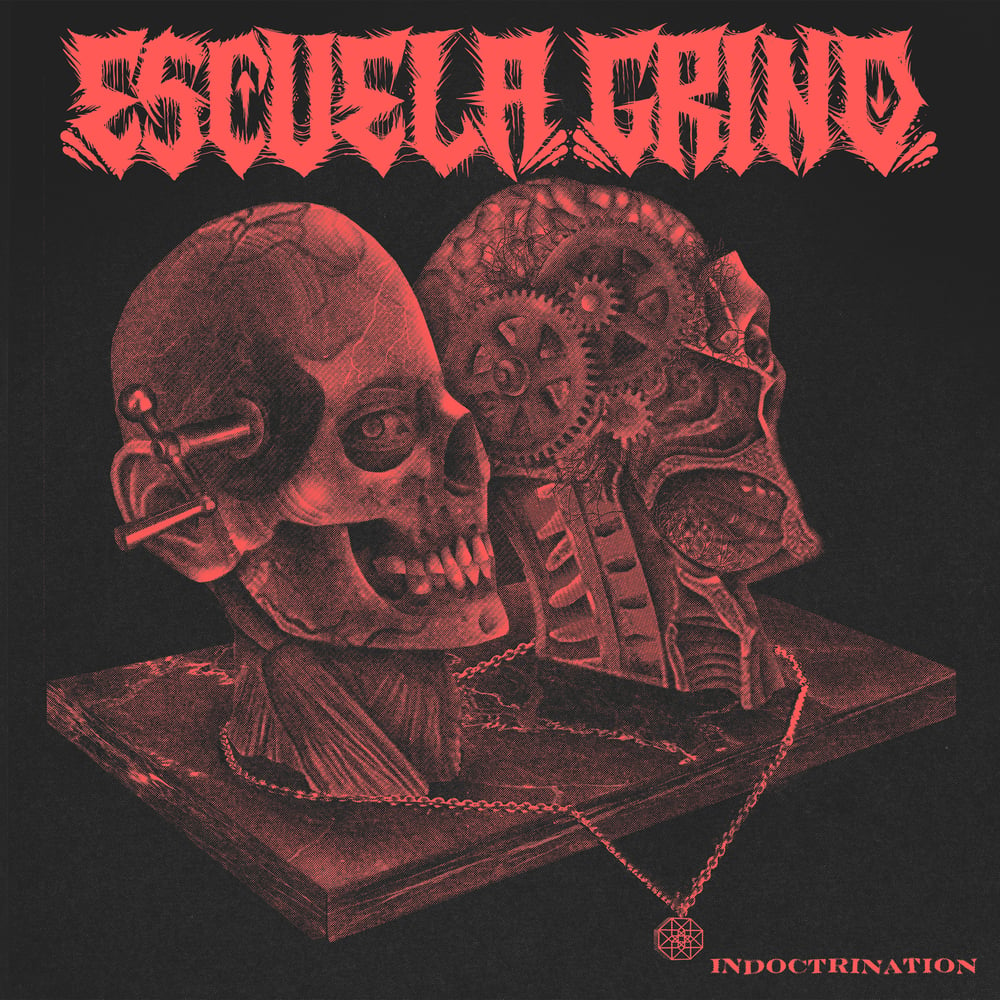 Escuela Grind - "Indoctrination" LP w/download / Digital
Armageddon Label
in co-operation with To Live A Lie (USA) and RSR (Europe)
Release Date: 03/20/2020
Catalog Number: AL-027
Available formats: Colored or Black Vinyl LP w/download / Digital
Through punishingly short, and dynamic songs, Escuela Grind delivers politically charged lyrics inspired by modern anxieties, unrest, and the roots of Hardcore Punk, Grindcore, and Power Violence. While members Katerina Economou, Jesse Fuentes (Kill the Client, Creator|Destroyer), Jason Balthazar Eldridge (Hearse), and Kris Morash (Your Brain on Drugs) span from different parts of the United States; the band has been based in Upstate New York and Western Massachusetts since its first shows in 2016.
"Following the forward-thinking path of bands like Terrorizer, these Ithaca, New York—based grinders offer variance to the tired blast-blast-blast trope, mixing in elements of death metal, doom, noise and more into their nitro cocktail. Featuring former members of Kill the Client, Monolith and more, Escuela are fronted by Katerina Economou, whose ferocious vocals provide an excellent guide into the group's depravity, one littered with hidden hooks, incredible riffs and brutality layered on brutality..."
- Revolver "5 Artists You Need to Know: October 2018" by Fred Pessaro
TRACKLIST:
1) Inspirational Significance
2) Hyper-Victim
3) Private Vice Public Benefit
4) Zalongo
5) Incel Circle Jerk
6) A Ladder of Seven Rounds
7) These Leeches
8) Indoctrinate (Interlude)
9) Your Beneficial Hate
10) Lines in Sand
11) In a Locked Room
12) Farinha
13) To Live and Die in Shittsfield
14) Million Year Picnic (M.O.S.H.)
15) These Insects Lived Like Men
16) Indoctrinated (Outro)
17) Honorkilling (Bonus Track)
LINE-UP
Katerina Economou: vocals
Jesse Fuentes: drums
Kris Morash: guitar/bass
Jason Balthazar Eldridge: guitar
Recorded and mixed by Jesse Fuentes at Secret Teachings Studio.
Mastered by Jirix-Mie Paz.