EXTREME NOISE TERROR "Phonophobia" LP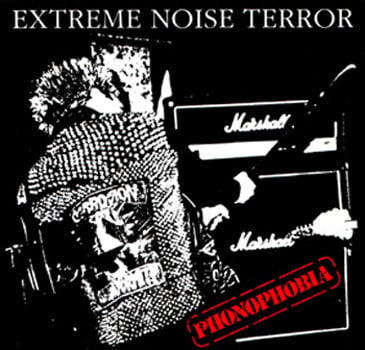 EXTREME NOISE TERROR "Phonophobia" LP
Euro Import.
Official repress, remastered and with 2 unreleased songs! Essential UK punk album. Along with the Chaos UK split and A Holocaust In Your Head, this is also 100% essential.
"Phonophobia" was originally recorded and mixed at Southern Studios in London in August 1991. This version however was remixed and remastered by Dean Jones and Phil Vane, with additional production at Springvale Studios in Ipswich in October 2009.
A band whose name truly encapsulates their sound, Extreme Noise Terror formed in January 1985 and were signed by Manic Ears Records after their first ever gig. Their debut release was a split album with Chaos U.K., and although there were musical similarities, ENT, along with Napalm Death, were already in the process of twisting traditional punk influences into altogether different shapes. All the conventions of crust are played out on this release: simple, punk riffs, fast d-beat drumming, and shout/scream/growl vocals. The songs are short, the songs are simple, the songs are just fast, more distorted punk music when you get down to it
Now the sound is more than ever ear damaging, so prepare your turntable and your eardrums for this final violent attack!
Tracklist
Pray To Be Saved
Knee Deep In Shit
Just Think About It
Lame Brain
Third World Genocide
What Do You Care?
Moral Bondage
Self Decay
Commercial Suicide
Is This The Way?