G-ANX / FILTHY CHRISTIANS split 7"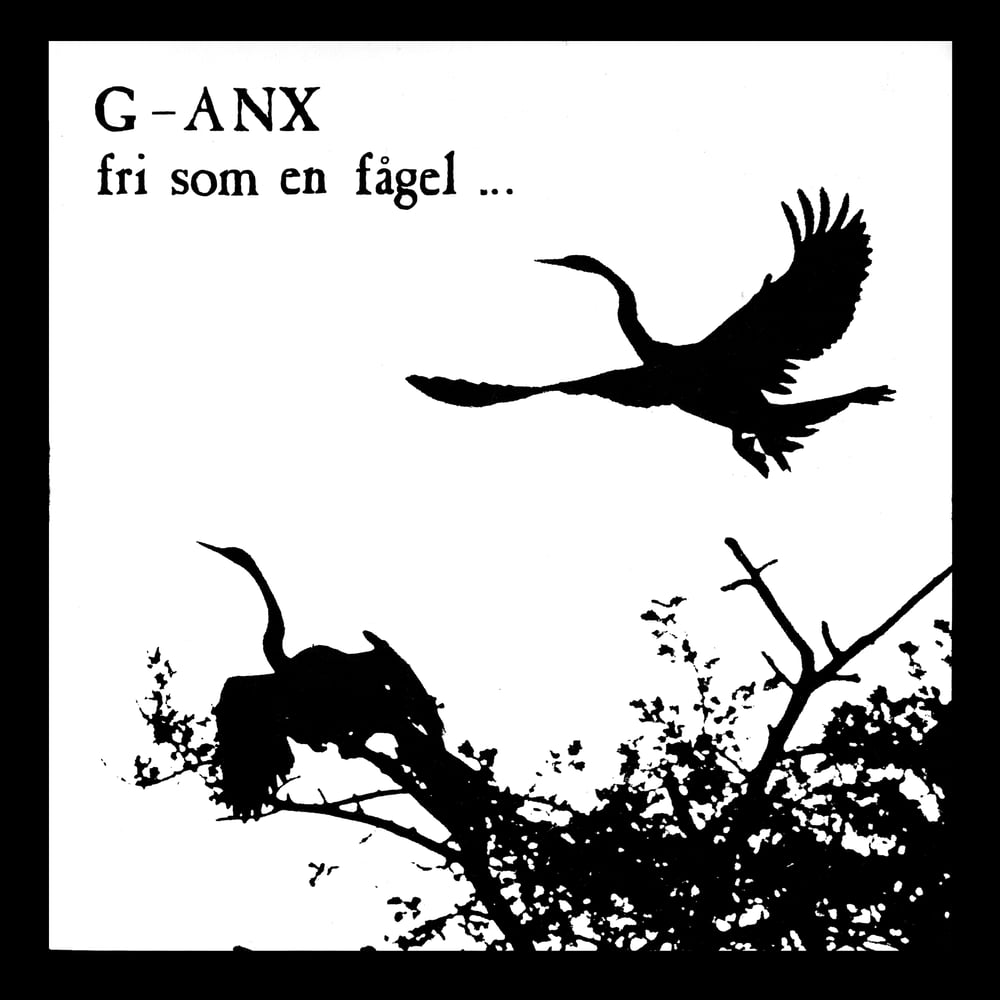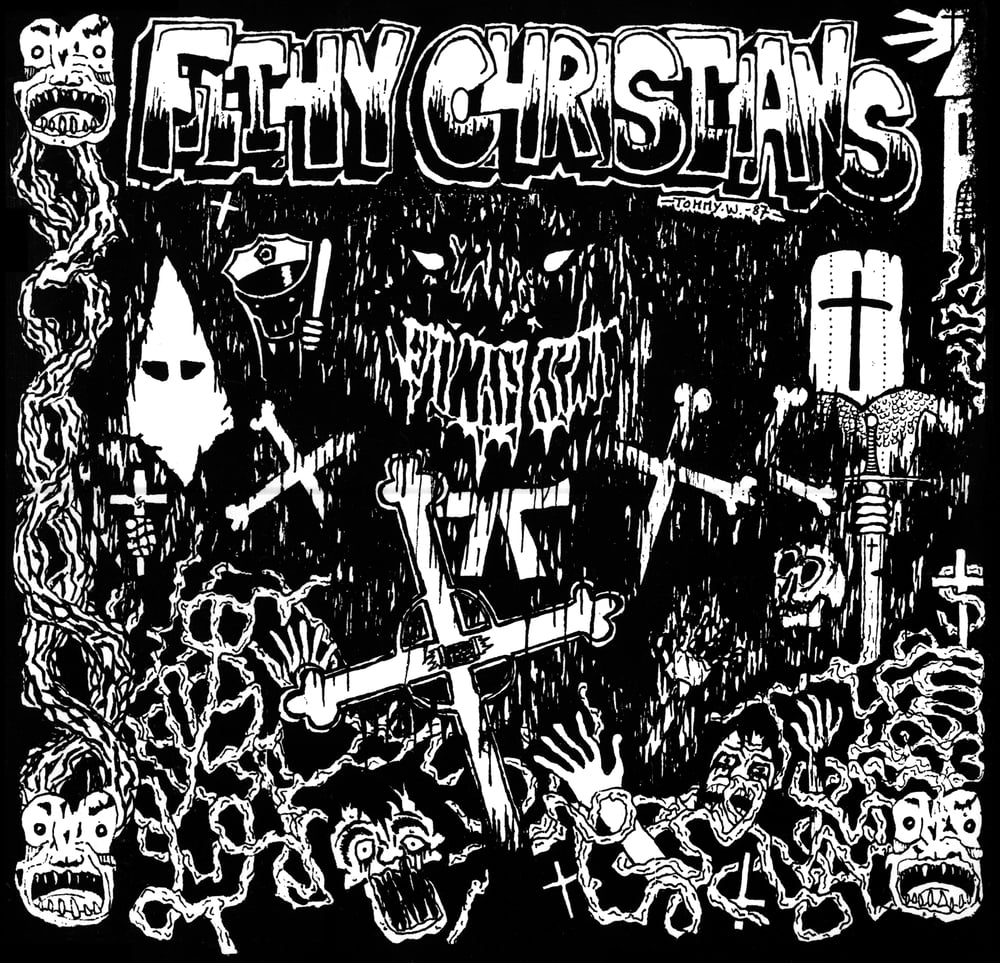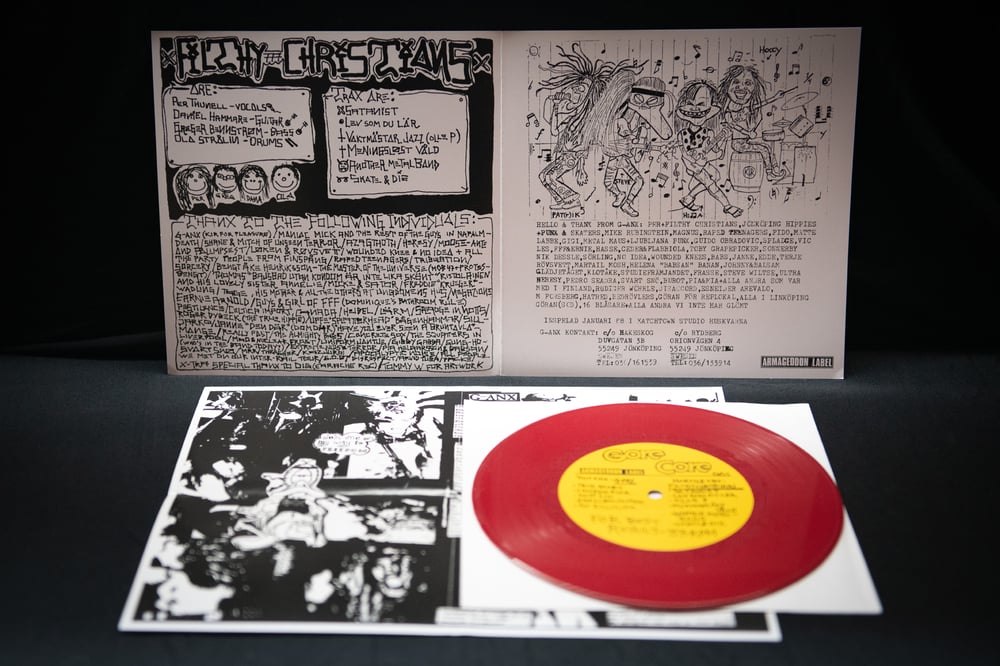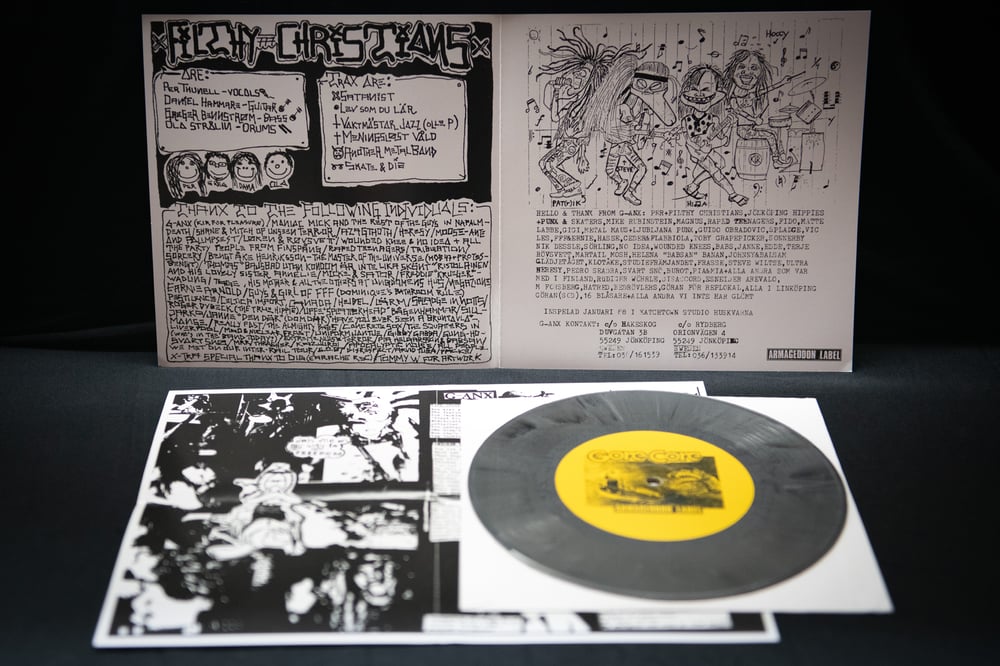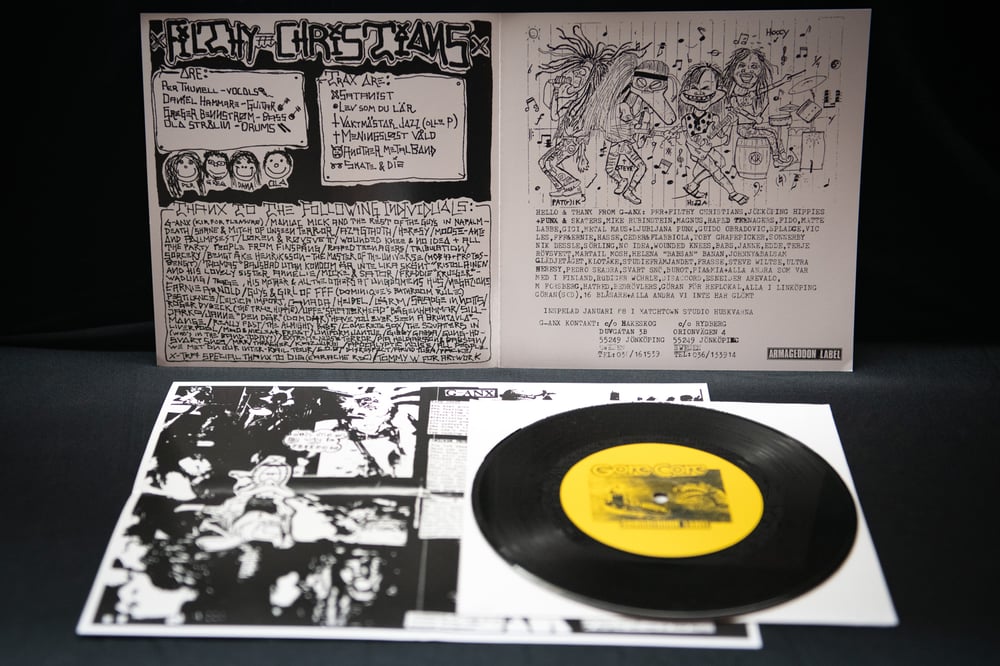 G-ANX / FILTHY CHRISTIANS Split 7"
Armageddon Label
Release Date: May 6, 2022
Catalog Number: Armageddon 035 / AL-035
Formats: Ltd. Colored Vinyl 7"
A long planned reissue project, it's nice to have this one finally happen after only 15 years since we started talking about it! The G-Anx / Filthy Christians split 7" was pretty influential to a fledgling Dropdead back in 1991/1992. Two Swedish hardcore/punk bands each approaching fast crazy HC with completely different approaches. We listened to this record a ton, and maybe the influences can't be heard in the DD sound, but it's been there from the start. It has been great that over the years we've had the chance to hang out with Steve and Per a few times on various tours. Play this record loud and often.
Audio was remastered in 2021 by Carl Saff Mastering, the vinyl lacquers were cut by Nick Townsend Mastering.
Pressed on 4 different colors:
Red Vinyl - 207
Gray Vinyl - 175
Black Vinyl - 201
Orange Vinyl - (Deathwish Inc. exclusive color) - 103
Tracklist:
G-Anx - True Story
G-Anx - Chicken Fuck
G-Anx - Mitt Liv
G-Anx - Enkelbiljetten
G-Anx - No Religion Can Save Us From Hell
Filthy Christians - Satanist
Filthy Christians - Lev Som Du Lär
Filthy Christians - Vaktmästar Jazz (Olle P)
Filthy Christians - Meningslöst Våld
Filthy Christians - Another Metal Band
Filthy Christians - Skate And Die
G-anx was from Jönköping, Sweden. Started already in 1982 but in 1984/1985 they developed into the first Swedish (proto-) grindcore band. In 1985 a demo was made and a tour to Yugoslavia. This split is their first release and contains 4 awesome songs in ultra-speed with slower parts. The line up was Patrik (Vox), Steve (guitar), Hedda (Bass) and Hoccy (drums). The band released 4 EP's and an album was planned as well, but of some reason the master tape got erased. They stopped playing in 1992. There is a discography called "Flashbacks" which contains all their EP's. G-ANX deliver five tracks of their powerful and aggressive hardcore, very fast, fierce, angry and raw..
Filthy Christians from Falun, Sweden, started out as a hardcore band but wanted to play faster. The vocalist Per Thunell was also behind the microphone of Protest Bengt together with Åke from Mob 47. They released the unbelievable 32 song EP with Protes Bengt. Filthy Christians were influenced by bands like Heresy and Napalm Death which you clearly can hear on this split EP. Filthy Christians tracks come from their second demo tape: imagine the crust brutality of Bombanfall enriched with some grindcore hints that pop up here and there. There are brutal vocals, rough guitars, beat changes with slower parts followed by fast outbreaks, there is a grindcore feeling but this is not the grindcore as we know it nowadays, six tracks are delivered and some of them last less than a minute.
US Distribution via Midheaven/Revolver USA, Tankcrimes, Deathwish Inc., Revelation, Ebullition and more.
>>> Non USA customers, email and I'll get you in touch with a distributor in your area.
[email protected]