MAN IS THE BASTARD "Under The Surface / Smashed Visions ++" 10" LP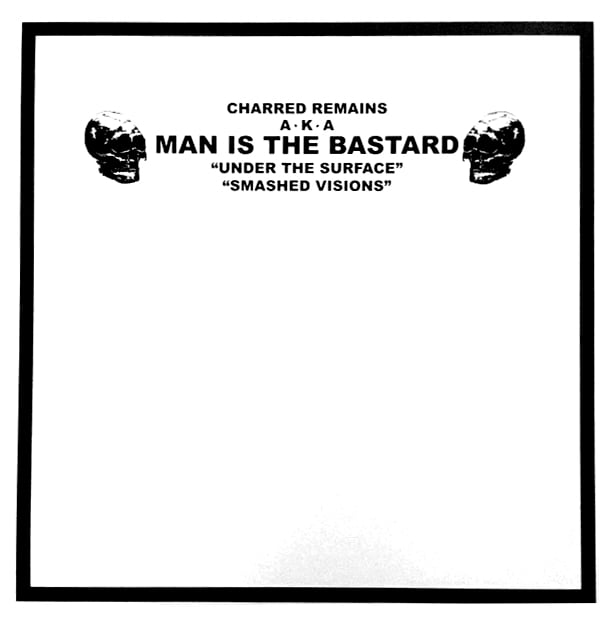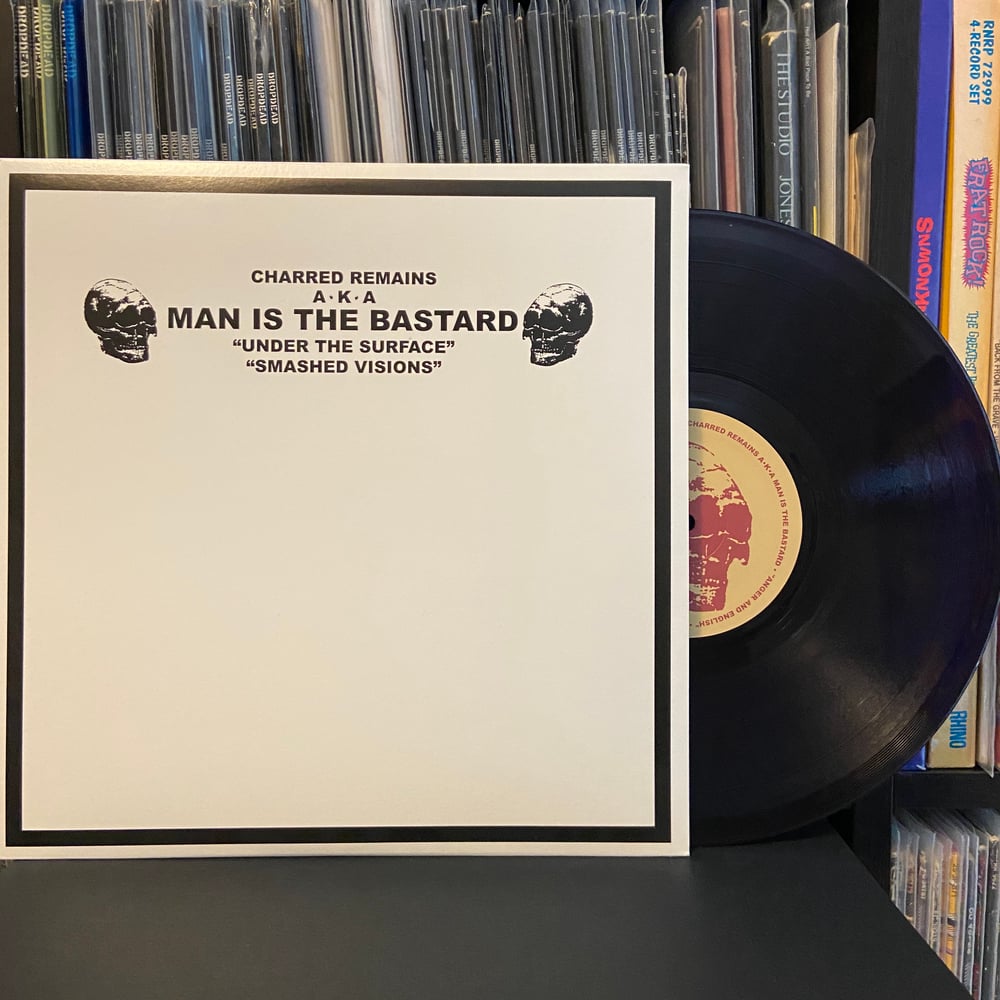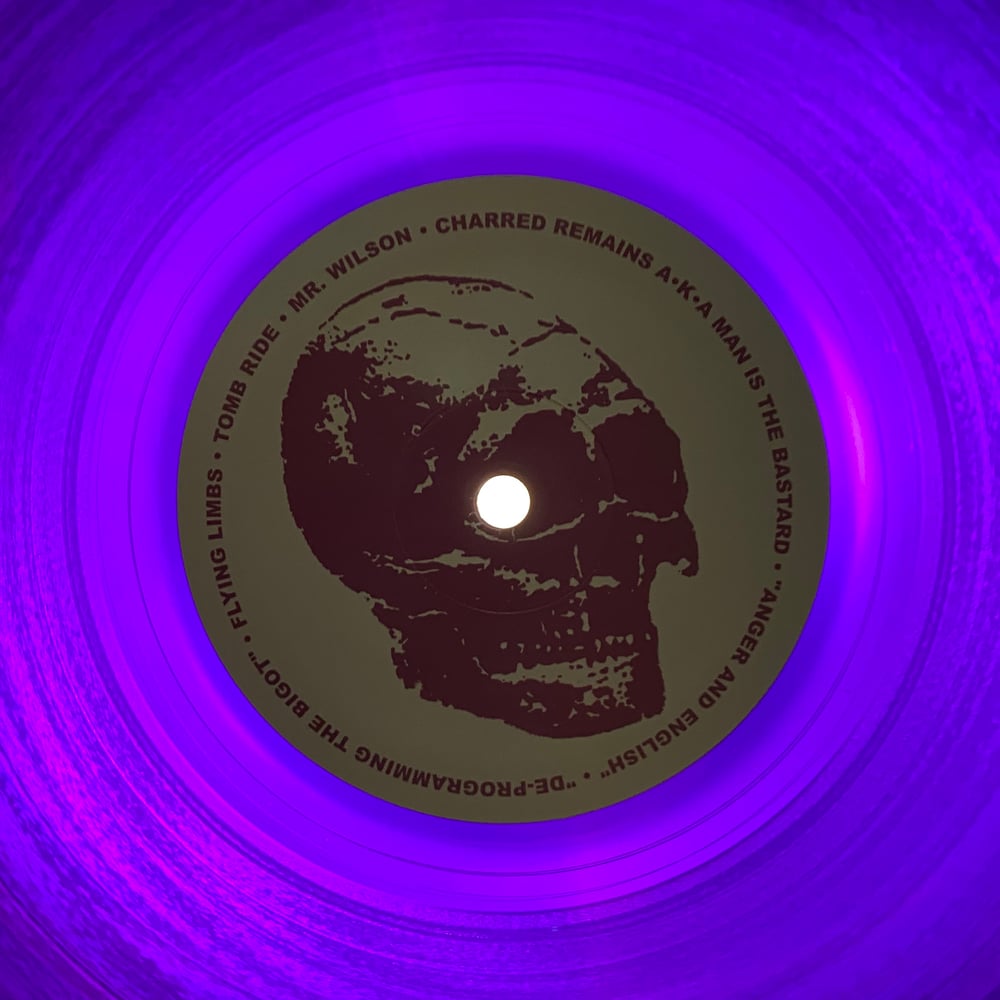 CHARRED REMAINS a.k.a. MAN IS THE BASTARD "Under The Surface / Smashed Visions / Anger And English / De-programming The Bigot" 10" LP
10 inch pressed on purple vinyl, includes a 2 sided 9x9 insert.
For MAN IS THE BASTARD, the years of 1994/1995 were critical years in the bands development and output. Among many releases they documented, two from this time period stand out as prime examples of their cutting edge sound and philosophy: MAN IS THE BASTARD/PINK FLAMINGOS split 7" e.p. (titled "UNDER THE SURFACE/SMASHED VISIONS") and the double 7" e.p. record set "ANGER AND ENGLISH" featuring CAMPAIGN/FACTORY/MAN IS THE BASTARD/SCAPEGRACE. Now these two contributions by the band have been re-mastered, re-cut, and re-pressed in all their glory onto a single 10" 45 rpm e.p. for heightened fidelity and "skull adventure."
With the original line up of BARNES/CONNELL/KENYON/WOOD in their third year of existence, the band shared a 7" e.p. with Berlin, Germany's PINK FLAMINGOS. This record set the underground music world on fire as M.I.T.B. covered a ton of new ground in under six minutes time using every musical tool and drop of emotion they possessed to carve a critical juncture in their history. Crystal clear progressive/aggressive turmoil abounds with such tracks as "DOLL", "MEDIA PROPHET", "SLAY OR SLANDER", and the climactic finisher "SQUAW". A perfect mix of dual bass guitars, guitar, intense progressive drumming, and desperate vocals make this session unforgettable and a staple "must have" for all "skull servants".
"DE-PROGRAMMING THE BIGOT" (M.I.T.B.'s aptly titled session name for the "ANGER AND ENGLISH" release) saw the absence of BARNES but the exciting new addition of his disciple and electronics composer W.T. NELSON. The band delves into the most heavy dual bass/drum attack of their existence to date with tracks such as "FLYING LIMBS", "TOMB RIDE", and "MR. WILSON" (Would you like a toke?), taking the listener into "skull territory" uncharted until now... Absolutely pummeling low end and brute force drumming compliments the critical empire-hating dual vocals with NELSON's ethereal electronic signals and self invented "Irish spring" to create a batch of songs that are fresh, desperate, and truly 100% MAN IS THE BASTARD!
This is the one you've been waiting for. M.I.T.B., two incredible perspectives and all on one massive 10"! Purple, transparent wax for mail order only.