RAPT "Thrash War: Discography 1984/1987" LP + CD + 7" EP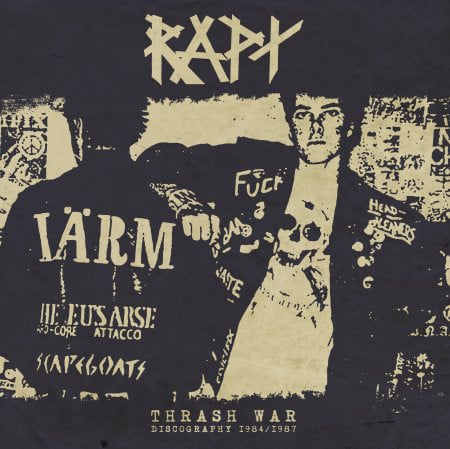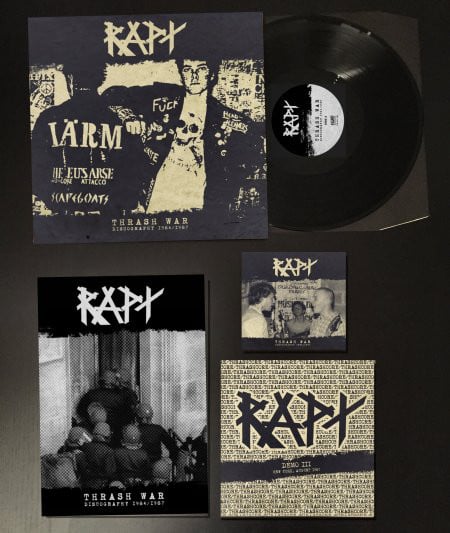 RAPT "Thrash War: Discography 1984/1987" LP / CD / 7" EP
Fast and furious! An early Dropdead influence along with Larm, Siege, Raw Power and a million others, but this stuff was so extreme even then. Absolute madness!
150 gram black vinyl LP in gatefold sleeve with booklet, 7" EP on black vinyl and CD in pocket sleeve.
Euro Import
"Noise with distortion - it's the Thrash core. Musical destruction, now another war... it's an expression. Here's the Thrash War!" these are the lyrics of the title track, to give you a picture of the sonic hecatomb that these French maniacs were spawning. Out of tune guitars, manic fast drumming and rabid vocals.. logos of LARM, KAAOS, HEADCLEANERS, EU'S ARSE on their jackets. And their only 7" released on "Caos Produzioni" by the singer of WRETCHED. So you can easily guess how they were sounding. RAPT were certainly not the earliest Hardcore/Thrash band in the 80ies' French scene but certainly one of the fastest and noisiest. This total discography set authorized by the band's bass player and screamer Olivier collects their Split 7" with Final Blast, all their demos (also including the 3rd one recorded in NYC with a different line-up) and a very detailed selection of rare recordings, most of which have never been released to date. Each session has been transferred from the master tapes provided by the band and accurately mastered, you have never heard the RAPT sounding so powerful and clear as on this ultimate release. This CD has all what you'll find on the LP and 7" + some bonus live and rehearsals.
Tracklist
LP
Demo I (Recorded In May 1985)
S.A.C.
Guerre Chimique Pt. 1
Incommunicabilité
Apocalypse Now
Catastrophe
K.S.D.
Afrique Du Sud Pt. 1
Amer Bilan
Apartheid
Torture
Stupides Terroristes
Mauvals Délires
Absurde
Déflagration
Tracks From "Infernal Noise" Comp. Tape (Recorded in 1984)
Anti-Nous
Catastrophe
"Invasion" With Alternate Intro, From Split Tape With LÄRM (Recorded In 1985)
Invasion
Demo II (Recorded In November 1985)
Thrash War
Afrique Du Sud Pt. 2
Guerre Chimique Pt. 2
Le Pen, Non!
Division Charlemagne
Zyklon
Anti-Skinhead
Disorder
Nazis & Communistes (N.C.B.)
No Need For Melody
Déflagration 2
Torture 2
Invasion
Live 12/4/1986
Blacklisted
Instrumental
7"
Demo III - New York, August 1987
Intro
Those We Pay
Mad Obligation
National Frontshit
Production Factory
Dramatic Nightmare
South-Africa SS
Happy New Year
CD
Demo I /Recorded In May 1985)
S.A.C.
Guerre Chimique Pt. 1
Incommunicabilité
Apocalypse Now
Catastrophe
K.S.D.
Afrique Du Sud Pt. 1
Amer Bilan
Apartheid
Torture
Stupides Terroristes
Mauvais Délires
Absurde
Déflagration
Tracks From "Infernal Noise" Comp. Tape (Recorded in 1984)
Anti-Nous
Catastrophe
"Invasion" With Alternate Intro, From Split Tape With LÄRM (Recorded In 1985)
Invasion
Demo II (Recorded In November 1985)
Thrash War
Afrique Du Sud Pt. 2
Guerre Chimique Pt. 2
Le Pen, Non!
Division Charlemagne
Zyklon
Anti-Skinhead
Disorder
Nazis & Communistes (N.C.B.)
No Need For Melody
Déflagration 2
Torture 2
Invasion
Demo III (Recorded In New York, August 1987)
Intro
Those We Pay
Mad Obligation
National Frontshit
Production Factory
Dramatic Nightmares
South-Africa SS
Happy New Year
"Noise Session" 1986
Untitled
Thrash War
Guerre Chimique
Déflagration
Rehearsal 1986
Amer Bilan
Stupides Terroristes (Take 1)
Stupides Terroristes (Take 2)
Mauvais Délires
Apocalypse Now
Torture
Catastrophe
Afrique Du Sud
Incommunicabilité
Live 12/4/1986
Live 12/4/1986